For updating Material, you have to first specify the parameters in the sheet.
For creation, you have to specify:
Material

Industry sector

Material type
a) As described in the previous page, you first need to create Material sheet.
b) For specifying fields, you go to either menu bar and select Add field or right click and select Add field (Material)
b-1) Menu bar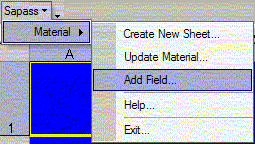 b-2) Right click menu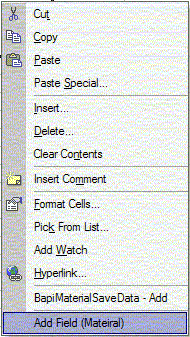 c) Pop up dialog screen appears, so select the group (combobox) and select the fields (multiple fields can be selected). After you hit ok then the fields will be populated on the sheet. *Note, you have to select "Key" fields for each structures if there is any.